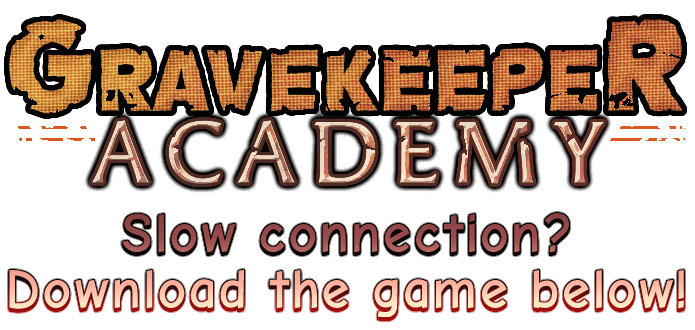 GraveKeeper Academy
This is the official Roadmap for GraveKeeper Academy. As elements of the game are finalized or completed, this Roadmap will be updated.
Chapter headers are not Official until their in-game section has been completed. Sub-chapters will not necessarily be displayed in-game and are more of a mental marker for the developer to keep things organized in their head.
The Bolded and Italicized Chapter and Sub-chapter indicate where the author is currently on the path to completing the Novel. Parts that have been struck through are not available in the current build of the game.
Series One :: Kinetic Route

Prologue
Chapter 1: So You Have Mortality

SC: Fallen Goddess
SC: Voshim Goes to Aeston
SC: That One with the Bxxxx
SC: Be Careful What You Wish For

Chapter 2: The Fear of God(dess) In Them

SC: Ordered Apologies
SC: Just How Broken Is That Talent
SC: Mother

-> Path: Omega
Omega SC: Aftermath
Omega SC: Protege
Omega SC: Confrontation
Omega SC: The End?

SC: The Sword of Damacles

Chapter 3: How to Train your Goddess

SC: Calming the Storm
SC: Meeting of the Mines
SC: Critical Role
SC: Ready ... Fight!

Chapter 4: A Darker Night for Souls

SC: Mi-stake and Grave-y
SC: You Saw Nothing!
SC: See no Evil, Speak no Evil

Chapter 5: Hail, Triumphant (Anti)Hero

SC: Heel-turn Villain
SC: Quest for the Holy Gale
SC: Lost in Time and Lace
SC: Lost in Time and Lace (Pt. 2: Electric Boo)
SC: Sharper

Chapter 6: 10 Pound Solution, 1 Pound Bag

SC: (Prayers) Down
SC: (Final) Stand
SC: Sign (Your Name)
SC: (Do Not) Bow
???

Series Two :: Prayer Answered (xxxxx Route)
Series Three :: The Last Cry (xxxxx Route)