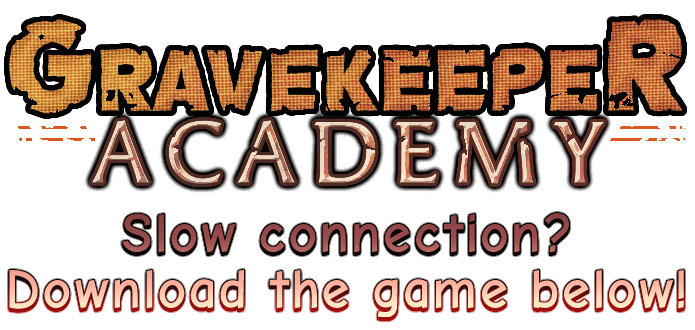 GraveKeeper Academy
✪ (っ◔◡◔)っ ♥ 𝙽𝚎𝚠 𝚅𝚎𝚛𝚜𝚒𝚘𝚗 𝙲𝚘𝚖𝚒𝚗𝚐 𝚂𝚘𝚘𝚗! ✪
---
A big overhaul is coming and I've got the pictures to prove it! (Art below the changelist)
Coming up in the new update:

[Added] Multiple new choices and paths to the introductory portion of the game
[Added] The long-removed Bath Scene has been re-implemented. Censor-bars have also been removed from the artistically nude sprites.
[Changed] Temporary CGs and BGs are being completely replaced with brand spanking new ones that I've hand-made!
[Changed] All characters will have more than their popsicle art post this upcoming edition.
[Changed] A lot of cleaning up of text, pacing fixes, and so on to make the reading experience smoother!
[Changed] Lots of new particle effects in the scenes to add energy.
[Fixed] There was a bug in script-naming that made Save/Load not work properly. This has been fixed!
[Fixed] The FeedbackWindow at the end of the game wasn't working properly, leaving the game just kind of sitting there when it reaches the end of the public demo. Now it shows up!
[Fixed] Multiple places where there were memory leaks caused by assets not being unloaded properly have been resolved by updating NaniNovel. As a result, the game should run much faster and take up much less of your system resources.
[Backend] NaniNovel has been updated to the latest version.
Thanks to everyone that's following along and don't forget you can join the game's Official Discord Server for even more up-to-the-hour updates on the game's progress, including exclusive sneak peeks into the game as I develop it!
[ J o i n * t h e * D i s c o r d ] https://discord.gg/VqP3vDj