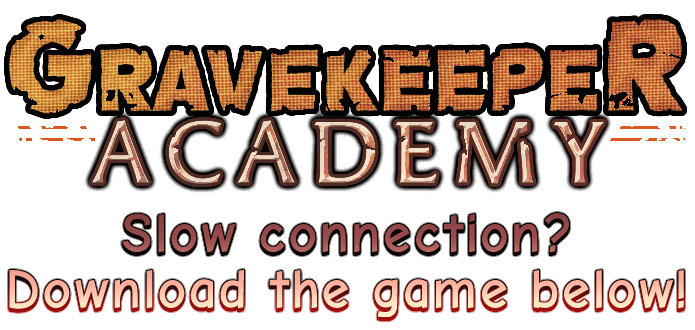 GraveKeeper Academy
Web-play & New Art/Dialogue!
---
New Version!
I've been hard at work keeping the lights on, but nonetheless work has continued on the project. A number of CGs now have more final art attached to them, some scenes have been edited to play better, and I've added some of the final temporary CGs to this portion of Burial Shroud.
In the reaches of the game you can't yet see, I've begun to lay out the framework for how "Verse One" ends. That has entailed a lot of research, script development, and lots and lots of choice-making. I've had to cut a bunch of content for the game but this is where I'd be opening the game up to life-sim or dungeon-crawl elements if the game had a larger fanbase.
As-is, for now, I'm expecting there to put in another hour or two of gameplay in Burial Shroud before the end of that verse arrives. Hoping I'll have that out for y'all by Christmas, fingers crossed, even if it's in a very pencil-drawing stage as goes the art (which takes the longest to develop among all the things I have to tackle in this project).
The desktop version of this build will be a few minutes behind the web-player as I only have a single build machine and like to push builds as soon as I verify they're in good working order.
Web-Player!
I'll now be maintaining a WebGL build of the game as a demo as well as the downloadable version. It'll probably be sluggish on non-high-speed connections until I make a full version-split of the project that has optimized audio for web-play.
I can't promise the game will load well over any internet speed but the game has been optimized through WebGL to play as fast as Unity can get it to. I'm not entirely sure how well saves and loads will work between the web-demo and the downloadable version, so I'll be keeping the two separate. Once the full version of Burial Shroud is out, I'll give the web version a 'JSON Key' you can save to disk which should allow the import of your data from the web-player into the game proper once it's out.
Thank you.
A big thanks to everyone who has reviewed the game so far! Your comments, ratings, and monetary support are invaluable to this solo developer. Every 5 star rating matters and gets this game more eyeballs on itch.io and every wishlist on Steam lets me pocket away another few dollars for the game's development, trailer, and potential Kickstarter.
I'm really looking forward to getting this full experience out for y'all.